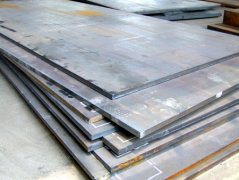 Grades: Thickness:8mm-300mm
Width:1500mm-4020mm
Length:3000mm-18000mm
Standards:GB713-97,GB6654-96,GB3531,GB150,JIS G3103,JIS G3115,JIS G3118,JIS G3119

Pressure vessel steel plate is carbon steel and low alloy steel plate to manufacture pressure vessel shell. It includes carbon steel, carbon manganese steel, micro alloyed steel, low alloy high strength steel and cryogenic steel. Work temperature is usually in -20℃ to 500℃, individual can reach 560℃. 16MnR steel (low alloy steel a kind of steel model) is one of the commonest and is used to produce ASEM pressure vessel.
Pressure Vessel Steel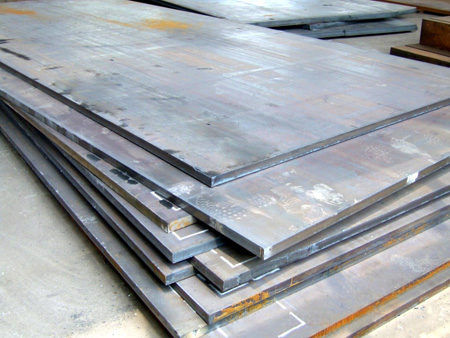 Pressure vessel steel plate is a special material related to national economy and people's livelihood and it is a short product in metallurgical industry. In recent years, China boiler and pressure vessel steel plate not only has a certain scale in yield, but also some enterprises are gradually close to the level of developed countries' boiler and pressure vessel steel plate in quality. Therefore, China has formed a certain production system of boiler and pressure vessel steel plate in scale, specification growing and quality improving gradually.
Pressure vessel has a wide scope of applications. It plays an important role related each part of national economy in petrochemical industry, energy industry, scientific research and military industry etc. Generally, the pressure vessel consists of six parts container body including barrel, end socket, flange, sealing component, opening, connecting pipe and support etc. Due to sealing, compression and medium, pressure vessel is easy to occur to accident like explosion, burning fire and endanger to personnel, equipment, property safety and environmental pollution. At present, pressure vessel is seen as an important inspection product by all countries. And it is inspected and supervised by the specialized agencies by the states according to laws and regulations and standards.
Pressure Vessel Steel Plate
Grades
Standard
20g,16Mng,15CrMog
12CrlMoVg,19Mng
22Mng,13MnNiCrMoNbg
GB713-97
20R,16MnR,15MnVR
15CrMoR,13MnNiMoNbR
15MnNbR,15MnVNR
GB6654-96
16MnDR,09MnNiDR,15MnNiDR
GB3531
12Cr2Mo1R,14Cr1MoR
07MnCrMoVR,07MnNiCrMoVDR
GB150
SB410,SB450,SB480
JIS G 3103
SPV235,SPV315,SPV355
SPV410,SPV450,SPV490
JIS G 3115
SGV410,SGV450,SGV480
JIS G 3118
SBV1A,SBV1B,SBV2,SBV3
JIS G 3119
SEV245,SEV295,SEV345
JIS G 3124
HI,HII,10CrMo910,15Mo3
13CrMo44,19Mn6
DIN17155
BHW35
Thyssen
13MnNiMo54
Dillinger
1Cr0.5Mo,2.25Cr1Mo
1.25Cr0.5Mo
Special condition
(S)A299M
(S)A515M(Gr.60,65,70)
(S)A516M(Gr.55,60,65,70)
(S)A204M(Gr.A,B,C)
(S)A387M(Gr.11,12,22)
(S)A537M(CL.1,CL.2)
(S)A662M(Gr.A,B,C)
(S)A302M(Gr.A,B,C,D)
(S)A737M(Gr.B,C)
(S)A738M(Gr.A,B,C)
(S)A533M(I,II)
ASTM、ASME
P235GH,P265GH,P295GH
P355GH,16Mo3,13CrMo4-5
10CrMo9-10,11CrMo9-10
EN10028-2
A42,A52,A48
NF A36-205
20MnHR,20HR,16MnHR
Special condition
161G430
Specification and delivery state
1.Specifications:
Thickness:8mm-300mm
Width:1500mm-4020mm
Length:3000mm-18000mm,Max weight: 25T;
2.Delivery state:
According to customers' requirements, steel plate can be hot rolling, controlled rolling, normalizing, annealing, tempering, NT and hardening and tempering;
3. Flaw detection and thickness performance:
Producing additional flaw detection requirements and tear resistant(thickness direction performance), also can supply Z performance steel plate based on ASTM、A770 standard  
Main Application
It is broadly applied in petroleum, chemical industry, power plant, boiler etc. Also it is used to produce reactor, heat exchanger, separator, oil gas holder, liquified petroleum gas pot, high pressure water pipe and turbine volute etc.